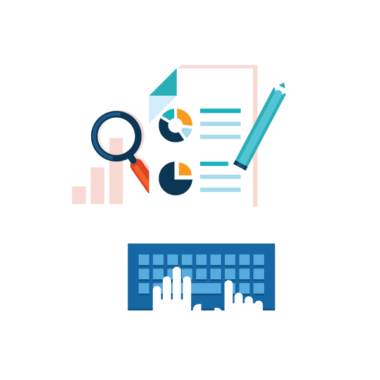 Search Engine Optimization & Marketing
SEO offers a visible and effective search presence leading to a considerable increase of sales, profitability, and cost efficiency for our clients.
Our search engine optimization core services include: Organic Search, On-Page SEO, Link Building, Keyword Research / Strategy and Activity Report.
Organic Search
Development and targeted promotion of remarkable content that fulfills your needs by achieving, improving and maintaining the visibility of your web presence.
On-Page SEO
Make your content easily accessible to search engines. Our team is ready to implement solutions to boost your rankings and improve your performance.
Link Building
An essential part of any successful SEO strategy, let's build your internal link profile to add significance to your page keywords listed within search engines.
Search Engine Optimization is fundamental to success. Our SEO strategies will earn your site a higher ranking in search results. We'll provide a full SEO keyword rankings report, a link building profile report and indexed page information. Our customer focused team will improve your traffic flow and increase sales for your web-based operations.
SEO is the lifeline of online marketing. We offer our valued clients a high quality and affordable package. Leave the rest up to us as our experts are trained on the latest guidelines from all major search engines such as Google, Bing, Yandex and Yahoo. Watch the video to the right on how Google Search works by Matt Cutts a good friend of mine.
How Google makes improvements to its search algorithm
Google is constantly looking for ways to improve its search algorithm. We stay on top of these changes and implement them into your overall marketing strategy.
Here's a short video Google put together that gives you a sense of the work that goes into the changes and improvements made to Google almost every day. While an improvement to the algorithm may start with a creative idea, it always goes through a process of rigorous scientific testing.
With over 21 years of experience we have the know-how to get more leads for your business!
83%
Organic Traffic - Increase
38%
Average Visit Duration - Increase
21%
Pages Per Session - Increase
Keyword Research / Strategy
One of the most Important SEO elements is the target keywords. Let our team determine the best strategy for all your link building activities to increase your search engine ranking and organic traffic.
Activity Reports
We provide a detailed report of your website SEO performance evaluation, as well as data about your traffic, top referring keywords and a full explanation of your search engine activity.
Tell us about your project
Let us help you get your business online and grow it with passion
Our team of professional SEO experts is the perfect partner for a successful business partnership.
Very happy with the design of my website JCAFinishingLLC.com. Kelly Advantage did a great job. Had my website online in 2 weeks. Great Job!!! Highly Recommend!!!
John Acerbi
Owner - JCA Finishing LLC
I am thrilled with the work Kelly Advantage has done on my website. As a FinTech startup, a professional looking webpage is crucial. Since the launch I have heard nothing but incredibly positive comments about our new website BaselineReverse.com. I would highly recommend Kelly Advantage to anyone looking for a professional looking website.
Baseline Reverse
Owner - Reverse Mortgage Industry
After searching for a web design company, I am thrilled to say that I am very happy with choosing Kelly Advantage to design and manage my website larissasinteriors.com. The overall web management is excellent. From the web design to video creations. I highly recommend the Kelly Advantage team.
Larissa Aguayo
Owner Larissa's Interiors
Kelly Advantage has done a superlative job at creating and maintaining a website for my business. I highly recommend Kelly Advantage. We are very happy with all the work they have done.
Richard Luthmann
Owner - Design Systems
I highly recommend Kelly Advantage. Their professionalism and expertise made it very easy to work with in the design of our website mysystemz.com
Rachel Spell
Owner - Systemz Bookkeeping
"We couldn't be happier with our choice of using Kelly Advantage Digital Marketing Agency for our new website jblawncareservices.com. They were easy to work with and made us a terrific website in a short amount of time. Thanks again for all of your hard work. We will recommend you to all of our friends!"
Robert Antones
Owner - J & B Lawn Care Services
"I just want to send you a special thanks for the terrific job you did for LapLoc.US - Kelly Advantage has done a top notch professional job with the layouts and the videos. One best selling book on web site design is Steve Krug's "Don't Make Me Think". The title says it all. When we go to a website we do not want to think. We want it to be obvious how to navigate the page, find the information we need and purchase the product. All your web site designs are beautiful in their simplicity. This is not easy. Making information - descriptions, videos, product categories, ​pictures, etc are not easy to filter into a simple and coherent visual system. You are a genius at it. Your work has been excellent and well worth the cost which I think is quite reasonable. Thank you for the success we will enjoy."
Fred Ewan
Owner - ProCorp
"I just want to send you a special thanks for the terrific job you did for ProCorpSecurity.US - Kelly Advantage has done a top notch professional job with the layouts and the videos.
Fred Ewan
Owner - ProCorp Security Solutions
"I was searching for a company in the Jacksonville, FL area with a great track record in Web Design and SEO. I found that company in Kelly Advantage. After speaking with Kelly Advantage I was able to quickly realize they were the company to take my business to the next level. We now have a great website and a 1st Page ranking in Google, Bing & Yahoo. I would highly recommend Kelly Advantage to anyone looking for Web Design, Local SEO, Social Media Marketing and anything related to online marketing strategy. Very Happy Customer!!!"
Doug Schnorr
Owner - Schnorr Home Improvements